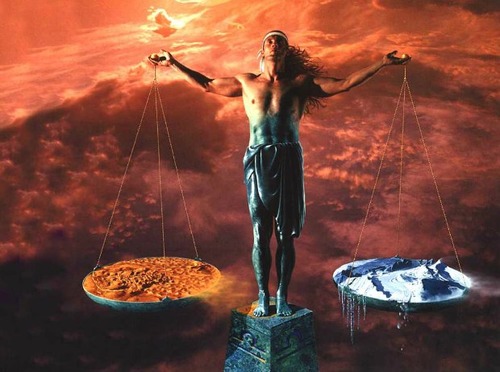 In the esoteric planisphere of the twelve signs, Adam Kadmon, the primordial man, pure and in perfect accord with the Father, occupied a point of the planisphere now designated by the sign Libra. This signifies the esoteric point of equilibrium in the Zodiac. This esoteric point is where day and night, winter and summer, light and darkness, good and evil, are all one. Adam Kadmon represents the ideal Man, and the very fact that we can form an ideal conception is absolute proof we possess the possibilities of attaining unto the ideas and realizing our conception.
The modern English name for this point of the Zodiac, "The Balance," which means Justice, is a fitting one. Justice discriminates  upon the external plane between good and evil and metes out rewards and punishments. Life, Light, Truth are the same and consist of spiritual reflection. They are Spiritual rays, and when these rays become refracted by passing through the prism of matter, Truth becomes illusion, Life becomes limited by assuming the appearance of death. The Spiritually beautiful and eternally true have no existence in the world where all is change, strife, discord, and death. Therefore the divine Spiritual ray of Good, when it becomes refracted, presents all forms and colors of evil.
The celestial point in Libra is represented by Enoch in the mysteries of the Jewish Temple, the Man who with God "and was not." This theological idea was plagiarized by the early fathers of the Christian Church when they elaborated their Christian mysteries. They make Libra symbolic of their Day of Judgment, when celestial "Justice" will be meted out to all. This is the point of the planisphere occupied by their divine Man. The Kabbalistical Adam Kadmon, the Enoch of Judaism, becomes Emmanuel of the new. Jesus is the sacrifice required by the Divine Justice of God's anger for the awful errors of a sinful world. Judas, who is a disciple of the Son of God was able to soar heavenward upon the wings of an Eagle (the inward inspirations), falls into temptation and betrays his Master into the hands of his murderers. Thence comes the fall, the Divine Eagle of the Celestial Heavens becomes a lowly reptile, the Scorpio whose sting is concealed in the tail.
Excerpt from  The Encyclopedia of Forbidden Knowledge